|||||||||||||||| < |||||||||||||||||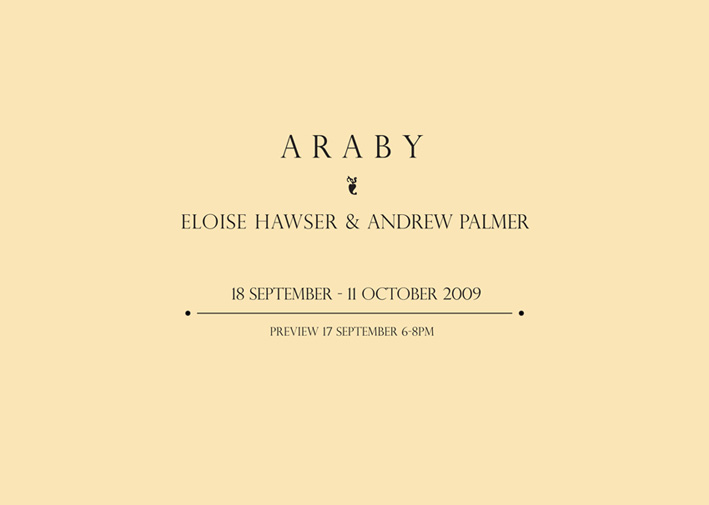 Having both previously appeared in Moot's programme of exhibitions and events, Moot is pleased to bring together and commission new work for Araby, a two-person exhibition by London based artists Eloise Hawser and Andrew Palmer.

Eloise Hawser's predominantly sculptural works are produced through a laboured process of combining and reworking often friable materials such as plaster and polyurethane with industrially fabricated elements and found objects. Hawser's often figuratively proportioned works echo classical sensibilities through layers of abstraction according to Hawsers own sense of the constructed form.
Born 1985, received a BFA from The Ruskin School of Art. Recent exhibitions include New Sculpture, Karsten Schubert, London; Contested Ground, 176, London and Eloise & Pablo, Wallis Gallery, London.

Andrew Palmer's typically smaller scale and densely layered paintings engage with an intuitive process of image making as private activity. Multi-dimensional space is materialised on the painted surface through feint structures and defined forms, whilst geometric abstractions and unknown archetypes present recurring motifs and symbols that fall in and out of view.
Born 1979, received a BA from Falmouth College of Arts & MFA from Slade School of Art. Recent exhibitions include Innerer Klang, Rod Barton, London; Galerie Rüdiger Schöttle, Munich and Enter the Path, Timothy Taylor Gallery, London.

To coincide with the exhibition both artists have produced a limited edition. Please contact gallery if interested in purchasing and discussing framing options:
Eloise Hawser
Untitled, 2009, 42 x 35 cm
Litho printed onto acid free paper
Ed 30 + 5AP
£30

Andrew Palmer
Untitled, 2009, 29 x 24 cm
Litho printed onto acid free paper
Ed 30 + 5AP
£30