|||||||||||||||| < |||||||||||||||||
September 1st - 30th 2008
Moot have been invited to curate a selection of films to be shown on the different screening formats on offer at the Broadway Cinema in Nottingham.
Glass Screen
JONTY LEES
Taking advantage of the duality of Broadway's glass screen, Cornwall based Lees will present the dip-tych 'Say Hello, Wave Good-bye'. Created whilst artist in residence at Tate St Ives in late 2007, 'Say Hello, Wave Goodbye' documents a black and white dot drawn on the wall on the studio and examines the capabilities of the zoom function of a video camera.

Bar Screen
RACHEL REUPKE
London based Reupke will be presenting the visually stunning yet subtly perturbing 'Now Wait For Last Year', created during, and in response to, an artists residency at 122A based in Wang Jing, close to Beijing's artistic centre, and initiated by artists Xu Zhongmin and Ye Yong Qing in 2006.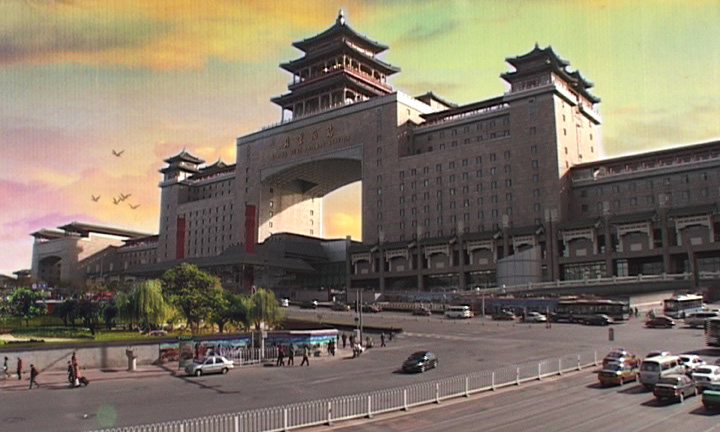 Small Screens
PETRA KLEYN
Netherlands based Kleyn will be presenting her video "Swinging From a Lamppost", created whilst participating in "Sign to Eutopia", an artist residency program at Sign Gallery, Groningan. This was made as a response to the influence of Dutch city planning, and documents the artist using an oversized swing attached to a streetlight swinging over a main road.
MAGALI REUS
Reus recently graduated with an MFA at Goldsmith's College of Art, London. Moot will present three films from Reus; 'Drifter', 'Cast' and 'Palm Prospect'. Bordering on the still image, Reus's films present serene and timeless sets in which characters occupy natural habitats set against corporate backdrops.